RSVP The biggest mistakes made by brides when shopping for their wedding dress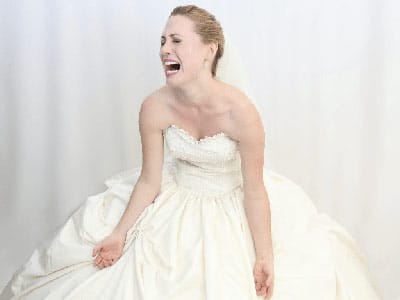 Buying your wedding dress should be one of the most exciting purchases of your life. Claire Dilworth from the Multi Award Winning Bridal Boutique Cinderellas Closet Cork, has shared with us what she believes to be the biggest mistakes brides can make when on the search for their perfect Wedding Dress. With almost 15 years' experience in the Wedding industry, Claire also has some tips on how to avoid making these mistakes.
Lack Of Research
It's time to go wedding dress shopping, exciting times ahead. My first tip is that you do your homework. Knowledge is key. Firstly decide how many Bridal Boutiques you wish to visit. As soon as you get engaged is the best time to start following your preferred Boutiques on social media. You will very quickly identify the ones that are current, Interactive and there to help you on your search. You will see if the dresses they are sharing are to your taste. They need to be showing that they are adding to their collections and that they offering helpful tips on finding the perfect dress, educating the bride explaining different dress styles and shapes (A-line, Trumpet) or Necklines (Bateau, Sweetheart) or Veil Lengths (Fingertip, Cathedral length). This gives you the confidence to explain to your bridal consultant what type of wedding dress you see yourself in.
It's good to contact the Boutique and ask them price range. Look at Reviews from previous customers.
Taking Too Many People To Your Consultation
It's totally your decision as to how many people you bring to your wedding dress consultation. At Cinderella's Closet each bride has their own private consultation suite with a comfy couch for your guests, from experience it's usually best not to bring too many people with you, we recommend one or two people who you trust and will give honest feedback. Too many conflicting opinions may make you second guess yourself and you may try to please everyone else and walk away from the Perfect dress for you.
Trying On Too Many Dresses.
Trying on too many dresses can make you lose sight of your vision, keep note of the dresses you love and trust your consultant if they suggest you try something you would not image as your style, we find it's often the ONE! Trust your consultant.
Knowing Your Budget and Not Being Honest with your Bridal Consultant
Knowing your budget before you start trying on Wedding dresses is key. A good bridal consultant works best when they know your budget. If you know you have a set budget and you don't give your Bridal consultant that very important information you could end up falling in Love with a dress that could blow your wedding Budget. Also you need to factor in Accessories and dress Alterations to the budget.
Looking At The Size On The Tag
Please don't look at the size on the tag. All wedding dress designers use different sizing methods, these are not high-street sizes.
Shopping For Your Wedding Dress Too Early
If you decide you are just going to look and see what's out there and you're not ready to buy for another 12 months, this can be a mistake. You could find the perfect dress and go back a few months later to buy and discover that the dress has been discontinued by the designer or the boutique has sold the sample, you will be disappointed. Twelve Months before your wedding is an ideal time to start looking.
Shopping for Your Wedding Dress Too Late
Try not to get caught out and limit your selection by leaving it too late, most designers need 6 to 8 months to make your dress, however don't panic if your wedding is sooner as your bridal consultant at Cinderellas Closet will direct you to an off the rack selection of amazing wedding gowns in a large array of sizes.
Being Snobby about Sample Sales
Buying a Wedding dress sample from a high-end Boutique can be a great opportunity for a bride on a budget. A high end boutique will only sell sample dresses that are in pristine condition at greatly reduced prices.
Wearing the Wrong Underwear
Strapless underwear in a nude shade is ideal, if you would normally wear some form of supportive underwear under a dress then they are ideal to wear when wedding dress shopping.
Settling For Poor Customer Service
When shopping for your wedding dress, your experience should match your expectations. Your expectations should fulfil your needs. It should be about creating the happiest of memories. This is your moment to feel like an A-List celebrity with your own personal stylist at hand.
Finally ladies, Enjoy every moment and have some fun!