Why Do Brides Wear Veils?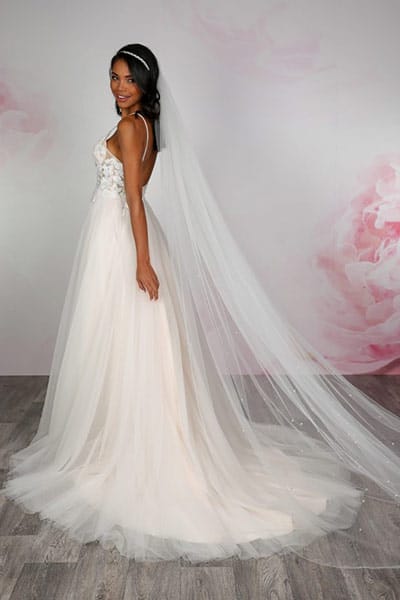 Are you considering wearing a wedding veil on your special day? If you're unsure, you've found yourself in the right place as today we're talking all about the reasons why brides wear veils.
A wedding veil can totally transform your bridal look, adding that extra wow factor to your big fay. A lot of women say it's the finishing element to their aisle style that really makes them feel like a bride-to-be. But why do brides wear veils? It's time to turn back the clock and delve into the past to discover the numerous traditions behind the wedding veil…
Wedding trends come and go, but the veil has been a must-have accessory for hundreds of years and it looks like it's set to stay in the spotlight. There are a number of reasons why brides originally started donning a veil on their wedding day.
Seen as a symbolic reference of the bride's innocents, the veil was designed to cover her hair and face while worn during the ceremony. The father of the bride would then lift the veil and present her to the groom, or alternatively, the groom would lift the veil and kiss the bride to symbolically consummate the marriage. Once a significant part of the wedding ceremony, over the years it has become an essential part of any bride's outfit.
Whether you're having a classic soirée in a grand country house, a bohemian wedding in the great outdoors or something completely different, veils are super versatile and with a huge range to choose them, you can easily find one to suit your celebration. There are lots of styles available at Cinderella's Closet to choose from too, so you'll be able to find a design that really does feel like 'you'.
Whether you're a traditional or modern bride, wedding veils can effortlessly add that extra special touch to a simple gown. If you have gone for an understated dress, you can opt for a veil with a little more detail and extravagance.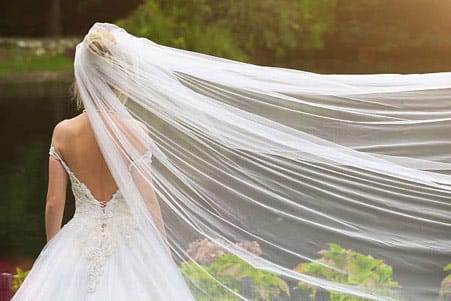 We're talking layers of lace, appliqué and floral embroidery – dreamy! If your dress is already guaranteed to turn heads, we suggest wearing a veil that is minimal in detail but still simply stunning. Remember, your veil should enhance and complement your wedding gown without distracting from it.
You will also need to consider the hairstyle you'll be wearing on your wedding day and what will work with a wedding veil.
It doesn't matter whether you're choosing to wear a veil for traditional reasons or because you're a style-conscious bride. The most important thing is that you feel utterly incredible when you wear it!
At Cinderella's Closet we have a huge selection of veils to choose from, we just love what we do….